Thomas Posted on February 15 2018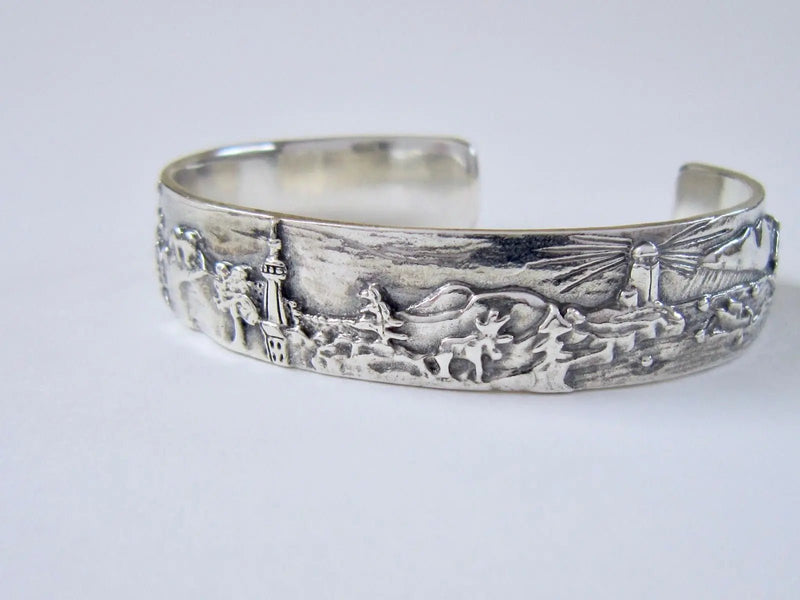 O Canada!
Written by Jewellery Designer Amanda Schoppel
From Coast to Coast 
Late last year, with 'Canada 150' and the Invictus Games being held in Toronto and their excitement still rich in the air, I took on the challenge of representing Canada through its landscape and animals. I am quite happy with the intricate design and meticulous carvings that resulted!
This Cuff takes a journey across Canada from the the West to East Coast.
This video explains all of the imagery in this quick journey across our beautiful country.
All of my jewellery is made by distilling ideas and drawings into a finished, clean drawing, or design. I then begin carving the wax, by roughly shaping it, transferring the image to its surface and then slowly, carefully removing layers and layers of the surface of the wax until it begins to take form. It is a meticulous, labour intensive process. One that I not only take great pleasure in, but which also has beautiful results! I believe, as I do with all of the processes of making, be it my art or jewellery, that the energy of making is held within the final piece.
Every piece starts as a simple block of wax:
This quick video explains the carving process:
The O Canada! Pendant
I also made a simplified 'across Canada' version. The imagery in this pendant is based only in landscape. There is also a small hand-drawn maple leaf inscribed on the back.
The O Canada! Earrings can be mixed and matched for your own 'perfectly-you' Canadian experience. 
Overwhelmed with such a wealth of natural Canadian imagery, I distilled some Ontario Landscape to these small interchangeable tablets representing: the CN Tower, a Muskoka (White Pine), and a Forest with deciduous and coniferous trees.
Also, how could I resist… sweet small CN Tower Pendant, on a 30" or 35" chain.
These small tablets are 2cm long, by 1cm wide.
All of these treasures can be found in store at Hart & Hive or online at hartandhive.com
Thank you for your interest,
Amanda
We, at Hart & Hive, are happy to coordinate a conversation between you and the jeweller to discuss your stories and have a handmade memento made just for you.